Unlocking the Passion of Youth
With the lockdown in full swing in 2020, many youths were left confined to their homes, unable to explore their interests fully due to COVID-19. This led to the start-up of Coordinate SG (CSG), a new platform that aims to help youths discover their passion and make the most of their abilities.
Meet the team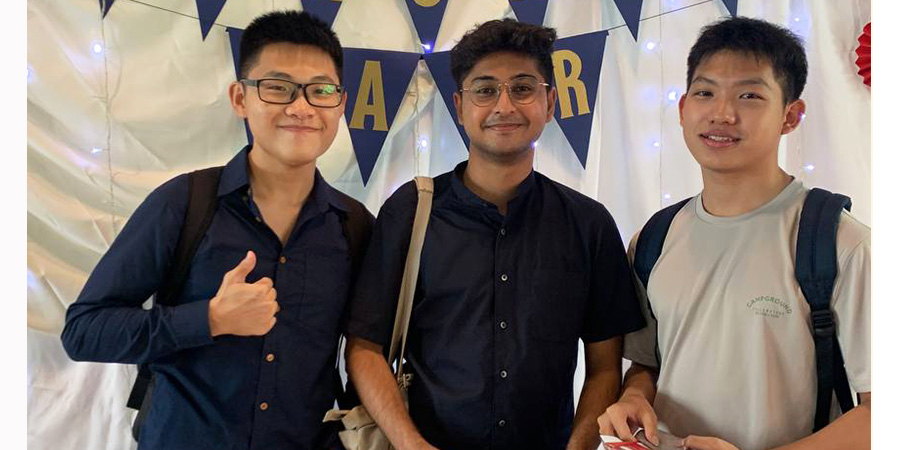 Ray (left), pictured with core CSG team members
Ray, the founder of CSG, was one such youth affected by the lockdown of 2020. His junior college days were filled with online lessons and lots of spare time in between. The mundanity left him feeling directionless, uninspired, and unsure of the future.
However, Ray didn't stay in the slump for long. He states: "The pandemic led many events to move online, so what that meant was that I could be anywhere in the world and take part in any event I wanted. I could even be in multiple events at the same time." He started participating in any and every opportunity that interested him, from hackathons to workshops, and conferences to digital conventions, just to name a few.
Creating Coordinate SG
While looking for a way to make the most of his youth, Ray realised two things. Firstly, searching for activities helps you discover your passion – which he found out first hand when he spent hours scouring the internet for things to do and came across various opportunities that interested him. And secondly, from spending time with friends, he realised that many young people don't know what they like because they haven't tried to find out. He saw the opportunity he had at hand, and decided he wanted to help other youths identify what they enjoy so that they could make the most of their lives. While Ray had the foresight as well as a background in design, his friends had the technical skills required to put his plan into motion. Armed with a goal in mind, Ray rallied his closest friends who shared his vision and set out to create CSG, a platform aimed at helping youths discover and develop their passions.
Coordinate SG's opportunity page
The platform collates various opportunities that youths may be interested in and categorises them into different "passion zones", for them to explore. These include entrepreneurship, design, music, media, environment, and the arts. So, no matter where a youth's interest lies, there's sure to be an activity that suits his, or her, fancy.
Overcoming challenges
Creating the optimised, user-friendly platform wasn't without its challenges and Ray mentioned leading CSG was the hardest of them all. He said it was like being an "engineer thrown into the shoes of a leader. I have to put myself out there and talk to people, pitch the project, manage a team of youth volunteers, who say they want to help out but may not be actually able to commit".
Ray had to pursue his passion while faced with challenges, preparing for A-Levels, and above all, becoming a leader. What Ray learnt the hard way was the value of delegation. Previously, he had tried to take on as many tasks as possible, which caused a lot of stress and made him realise that it wasn't feasible to do everything alone. That's when his teammates stepped up and supported him to overcome these challenges and make CSG what it is today. Though at the cost of "watching less episodes of anime or waking up earlier in the morning", he quips with a chuckle. They have also partnered with the Youth Corps Singapore's Affiliates and other organisations to expand their outreach potential in the hopes of sourcing more opportunities for the youth to participate in.
And even though the platform is fully operational, it takes work to keep it up and running. At present, Ray continues to plan and develop CSG during his spare time in National Service.
Future plans
What started out as an idea among four secondary school mates to help youth develop and discover their passions, has led them to partnering with various secondary schools, Junior Colleges and even the Youth Corps Singapore's Affiliates. They've hosted workshops for over 800 students in the hopes of creating more equality and access to opportunities among students from different backgrounds. Through CSG, many youths who were struggling to find something they enjoyed have now been able to find their passion and develop their interests.
Ray and his team hope to see their platform grow, with more participants and organisations joining their cause. He invites youths from all walks of life to give the platform a try and possibly discover something that they are passionate about. He also hopes potential partners to come forward by sharing opportunities on the platform, or by co-creating opportunities with CSG.
Enable your passion
If you are a youth hungry for new passions or are an organisation eager to benefit from youthful passion, visit coordinate.sg and learn more about the platform and all its offerings. You can also contact Ray and his team at team@coordinate.sg, or hit up their Instagram @coordinatesg!
Published on 17 November 2022.
OPPORTUNITIES TO PARTICIPATE
Discover the opportunities for you to play your part in building a better Singapore together.

FIND SUPPORT
Learn more about the resources available to help you realise your initiatives.
STORIES
Every effort counts. You can play a part and contribute in small and big ways to shape a better Singapore. Be inspired by stories from fellow Singaporeans.