Help our Community
The Ngee Ann Kongsi - Institute of Policy Studies Citizens' Panel on Employment Resilience
By Ngee Ann Kongsi - The Institute of Policy Studies
Have an idea to share on making our workforce more resilient?
Join the Citizens' Panel by Ngee Ann Kongsi - Institute of Policy Studies to share your views and suggestions.
You can play a part in co-creating and co-implementing these solutions that will go a long way in strengthening the resilience of our workforce!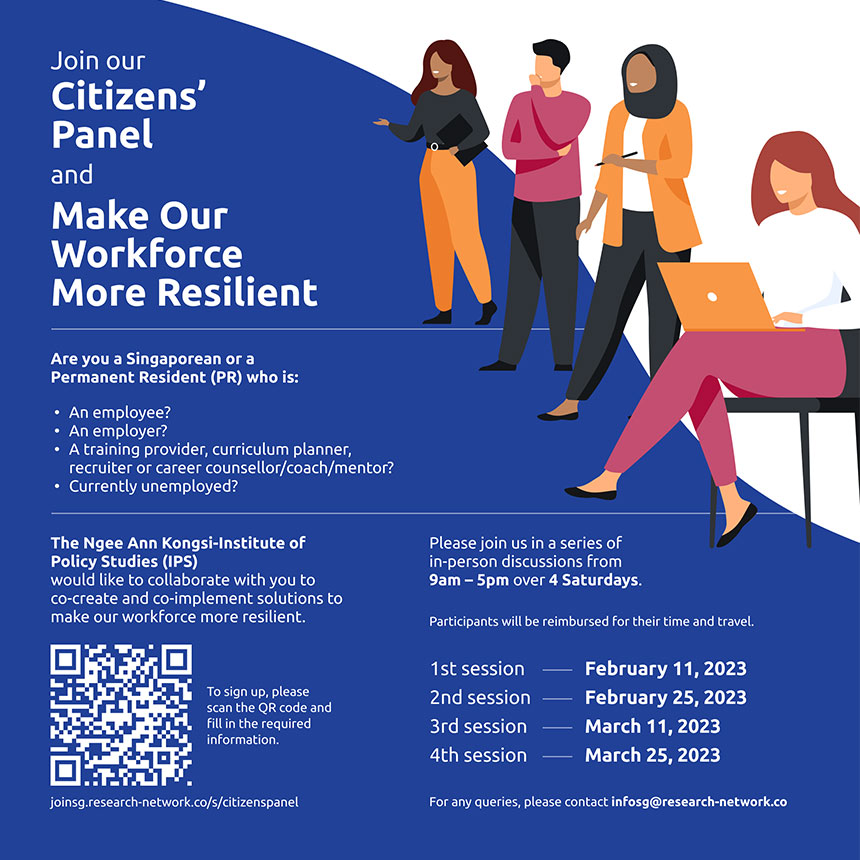 Details
Select Dates
11 Feb 2023 to 25 Mar 2023
Hosted By
The Institute of Policy Studies is an independent think tank at the Lee Kuan Yew School of Public Policy, NUS. The Ngee Ann Kongsi is a non-profit Teochew philanthropic organisation.
OPPORTUNITIES TO PARTICIPATE
Discover the opportunities for you to play your part in building a better Singapore together.

FIND SUPPORT
Learn more about the resources available to help you realise your initiatives.
MORE STORIES
Every effort counts. You can play a part and contribute in small and big ways to shape a better Singapore. Be inspired by stories from fellow Singaporeans.