Opportunity to reinforce the importance of defence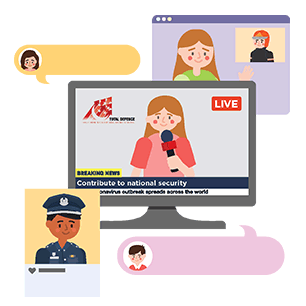 Many of us feel that COVID-19 has reinforced the need for a strong and ready defence. Those of us who are National Service (NS) personnel, employers or community partners feel that the way Singapore and Singaporeans have responded to COVID-19 provides an opportunity to reinforce the importance of defence in peacetime. Demonstrating how different segments of our society have benefitted from a safe and secure Singapore will help our population better understand the need for NS.
The government could engage the media to do a series on how people of all backgrounds worked in a wide range of areas behind the scenes to ensure that we had an effective national response to COVID-19. In particular, showing how Full-Time National Servicemen (NSFs) had contributed to these efforts would help to inspire those who have yet to serve their National Service. NS officers could also share their personal stories and experiences.
Quotes
Encourage more ground participation in Total Defence
Youths recognise the importance of Total Defence. A few of us see Total Defence more as a framework than an inspirational call to action. Some feel that the government should empower youths to take action and drive conversations on national security, including issues regarding Singapore's place in the world, so that they can have a stake in the defence and future of our country. While there are existing platforms for Singaporeans to express our thoughts on Total Defence, many of us feel that the government could continue to expand touchpoints on Total Defence beyond schools.
Although we recognise the importance of Total Defence, we feel more disconnected from historical events. The government could increase youths' awareness of threats confronting Singapore, and make greater use of social media to convey the messages.
Quotes
Quotes
Increase support for National Service personnel
Some of us who are National Service personnel and community partners feel that MINDEF/SAF should continue to strengthen the support networks for National Service personnel by engaging service personnel, their families and their employers more regularly. MINDEF/SAF could also better recognise National Service personnel's efforts, enable them to fulfil their personal and professional objectives in a conducive environment, and promote physical and mental wellbeing.
Quotes