;
Forging a better way forward
COVID-19 has reset the world in profound ways. This is the moment for us to reconsider what we value, and what we seek as a society.
That is why the Emerging Stronger Conversations (ESCs) were launched in June 2020, as part of the Singapore Together movement. This is about all of us, working with one another and with the government, to recover from COVID-19.
Join us as we share our stories, our hopes and our ideas, and find strength in each other to heal and emerge stronger.
We, the people of Singapore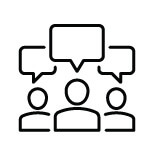 (A note on pronouns: throughout these pages, "we" is used to reflect the voices of the people of Singapore, as represented by participants who gave their views through the ESCs, surveys and feedback platforms.)
This is a story of We, the people of Singapore.
It reflects the rich and diverse views of over 16,900 Singaporeans, showing where we converge but also where we diverge.
We readily participated and shared our views despite the challenges of COVID-19. It was a learning journey for us, as conversations moved online and were held in smaller groups, but we adapted as we went along.
We heard from people different from ourselves, with different backgrounds and experiences. We had conversations in mother tongue languages, and included people with disabilities. We had open and broad discussions on our hopes for Singapore, as well as deep dives on topics close to our hearts, like sustainability, our economy, and ageing.
To complement the ESCs, surveys and feedback platforms were set up. This helped to reach out to as many of us as possible, particularly those who were less digitally connected, vulnerable groups, and essential service workers.
Our conversations cannot stop here. The pandemic is not over, and we can expect twists and turns ahead as Singapore navigates the effects of this crisis. We need to keep conversing with one another, understand what is emerging, and work together to come up with ideas and solutions.
We have come a long way as a nation, and there is much to be grateful for. But we also know that we should not take what we have for granted.
We may have differing views, yet we share a common hope – for a more united people, a more just and equal society, and a place where each of us can find happiness, prosperity and progress.
Explore opportunities to contribute
The conversations will go on even as Singapore's fight against COVID-19 continues. There will be further ESCs to deep dive into specific issues. We will also form Singapore Together Alliances for Action (AfA) and other partnerships, to tackle key issues together.
Each of us can contribute to a better future for Singapore. Together, let's build a stronger and more resilient nation for generations to come.
Explore the opportunities that you can be a part of.
Quote
Note: Some website photos were taken before COVID-19.